Personally I'm not a fan of ranch (or a lot of other popular foods for that matter) but lucky for me, my fiance is!  That broadens up what I can make quite a bit, including these BBQ Bacon Ranch Stuffed Chicken Breasts.
These are real easy to make, taking only about 45 minutes to cook in the oven and leaves you with a super juicy, flavorful meal.  There are two recommendations I will make while cooking this, and they are:
1. Deep fry your bacon if possible for that extra crunch
and
2. Use a good honey bbq sauce like Sweet Baby Ray's.
I remember when the whole bbq bacon ranch craze seemed to start, or at least when I noticed it.  It had to be about 6 or 7 years ago, about the time I was working in a pizzeria.  Chicken specialty slices were always the biggest sellers – buffalo chicken, bbq chicken, chicken parmesan, chicken marsala, chicken francese, etc.
I'm not sure where it all started, but we started making chicken bacon ranch slices and they would sell out quicker than we could make them.  All the local pizza places seemed to be doing just as well.  Restaurants were tossing fried chicken on salads and making sandwiches and even to this day it seems to be pretty popular.  And I have yet to try any of it, but I'm more than happy to cook it up.  When my fiance devours what I cook for her, I know it's passed the test and it's a good recipe.
Love Our BBQ Bacon Ranch Stuffed Chicken Breasts?  Then make Sure You Check Out These Other Recipes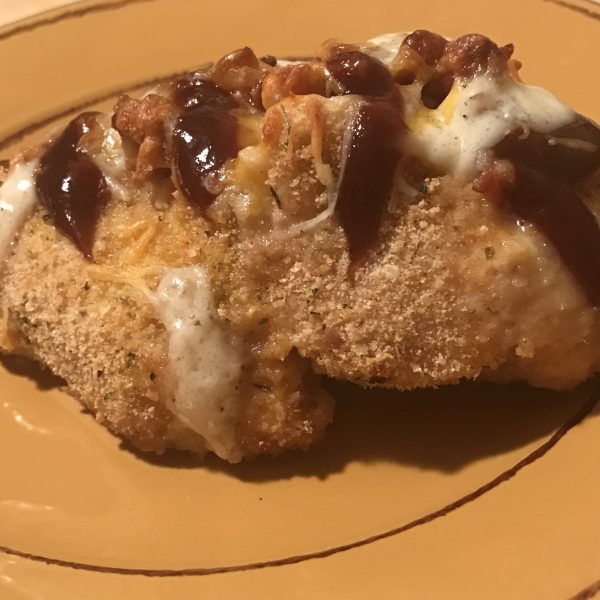 | | |
| --- | --- |
| | |
Start off by removing all fat from your chicken breasts and trimming them up

In a small bowl, mix your breadcrumbs, parmesan cheese, paprika and oregano

Heat your oven to 350. Coat each breast in olive oil then cover in breadcrumbs. Place on a pan and cook for 30 minutes

While your chicken is cooking, fry up your bacon. I recommend cutting each slice up into four pieces and deep frying for an extra crisp, but you can cook however you'd like. Crumble the pieces

Take out your chicken (it will not be fully cooked yet) and cut a Y-shaped pocket

Stuff with cheddar and bacon, and top with ranch and honey bbq sauce

Place back in the oven for another 15-20 minutes or until cooked (165 degrees internal)

Remove and serve with some extra sauce on the side