I love experimenting with food, and as you might guess meat is usually involved.  I try to use different meats and different cuts as much as possible, but some are just so damn good that there are TONS of recipes that you can make.  Wings fall into that category.  Whether you want buffalo wings or you like them super hot, mild, sauced or unsauced, grilled, fried, smoked or baked, there are unlimited possibilities.  Dry rub or sauced?  Hell, I've even seen people injecting them (don't worry I'll be trying this soon).
Well when you think about wings, what else comes to mind?  Beer and football.  Why not have your beer and buffalo wings together?  Now you can.  And with a citrusey taste, Blue Moon is the perfect beer for the job.  I've done a good deal of cooking with beer in the past, and Blue Moon has become my go-to "cooking beer".
You'll be proud of these wings as you literally chop, brine, grill, and cook your own sauce.  If you love these Blue Moon Buffalo Wings, you should check out these two recipes that also go great on wings:
On a side note, did you know the "legs" you get with wings aren't actually legs?  They're a part of the wing which blew my mind.  I was looking at the supermarket for a bag of frozen wings and they were all out.  So next best thing, I grabbed a package of legs and a package of wings and figured hey I'll make some giant wings why not?  Until I started to clean the wings up and realized that I could chop the wing into three pieces, toss the tip and have the other two pieces.  Boom, you got yourself fresher wings (and I think it actually works out cheaper).
I got to use my cleaver which I got off Amazon for like $17.  If you don't own a cleaver I think you should get one.  I now use it almost daily.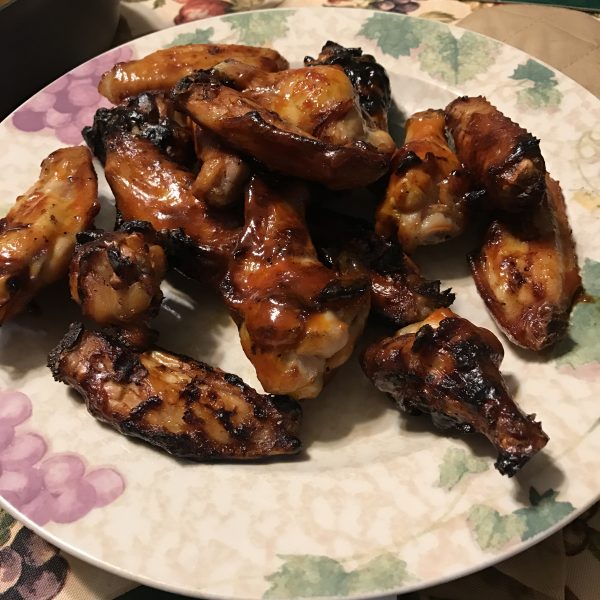 | | |
| --- | --- |
| | |
You can start off with whole wings like I did here, or pre-cut frozen wings. Either way, rinse off and make sure they aren't frozen

If you chose to go with the whole wing, use a cleaver and chop at every joint. Toss the tip and the other two parts are your wings

(When I figured this out I was shocked, and no one I asked seem to know so I figured I'd share)

Grab yourself a bowl, and add one bottle of Blue Moon, 1 tbsp brown sugar, 1 tbsp salt and 1/3 cup orange juice. This might bubble up, so stir and wait for it to settle. Pour into a large zip lock bag and add chicken

Try to make sure that all chicken is completely covered by removing all air. Place in fridge for a minimum of 30 minutes, up to 4 hours

In a saucepan, pour in another bottle of Blue Moon and cook until it starts to render out and thicken

Toss the chicken on the grill

Add 1 tbsp brown sugar, 2 tbsp butter, and 1/2 cup Frank's Buffalo sauce to the boiling beer. Stir well and cook over medium-high heat, stirring every ten minutes until it thickens up

When the sauce thickens, remove from heat

Toss the wings in the sauce as they near completion and place back on the grill