I've been seeing all these delicious looking bread bowls all over the internet lately and it's really got me wanting to make one.  But as usual, I didn't want to make something I've seen a million times.  So I was thinking of bread bowl filling ideas, and I knew that I had a bunch of chicken in the fridge.
A chicken alfredo breadbowl recipe might be nice, but I was thinking more along the lines of something with a kick.  Maybe a buffalo chicken dip breadbowl?  I finally decided that a chicken chili breadbowl would hit the spot and searched through the cabinets to see what ingredients I could throw together.
I found some navy beans and salsa, and knew I had some frozen corn.  That should make a pretty good color combination along with the cheese.  I've been using La Costeña Homestyle Mexican Salsa for the past few months and I love it.  Unfortunately it's not listed on their website but you can get it here on Amazon if your local food store doesn't carry it.  (Side note – if you don't already shop in the Spanish section of the supermarket you're missing out!  These cans of salsa are super cheap, and they also have loads of spices for less than half the price you would pay for name brand.)
Bread bowls are great for sharing as an appetizer at parties and get-togethers, or just devouring with the family as a snack.  The cheesy texture makes this almost more of a cheese dip, but I'm going to keep calling it a chicken chili breadbowl cus that's what I set out to do!
After you make this I can guarantee you'll want to experiment with new fillings.  Check out Pinterest for a TON of ideas.  Doing a quick search I found lasagna bread bowls, pizza bread bowls, spicy cheddar beer cheese soup, hell even grilled cheese bread bowl soup.  Yea, I'm gonna need to get more bread…
Looking for more appetizer ideas to wow your guests?  If you love our Chicken Chili Breadbowl, I highly recommend you check these out!  Try one of our favorite appetizer recipes.  And if you love them as much as we do, be sure to share the recipe!
Pineapple Teriyaki Boneless Wings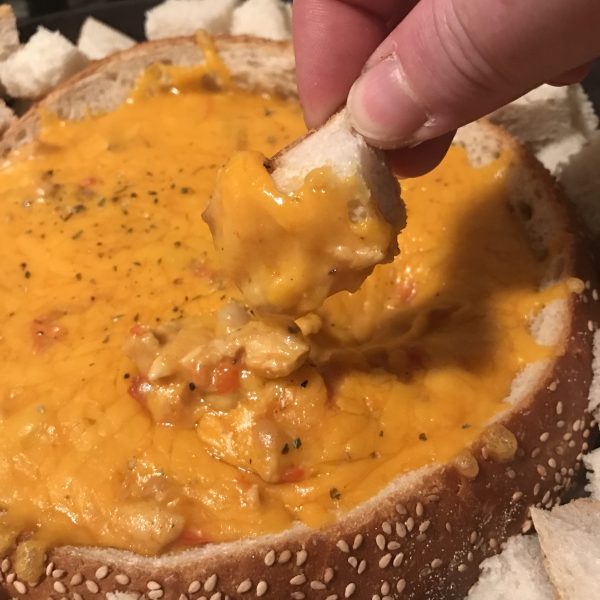 | | |
| --- | --- |
| | |
Start by chopping up your chicken into about 1/2" chunks. Place in a bowl with the salt, black pepper and paprika and mix well

Place a small pot on the stove top at low-medium heat with the olive oil. Add chicken and cook 10 minutes

Drain fluid and chop chicken finely

Return to pot. Add chili powder, salsa, diced onion, diced red pepper, navy beans, corn, 1 cup warm water and chicken bouillon cube. Mix well and let cook 30 minutes uncovered

Add in 1 cup of shredded cheddar and stir in, cooking until melted

Cut out a hole in the bread and make a bowl

Fill bread bowl with the chicken chili and sprinkle remaining cheese on top. Cook in oven at 350 degrees for 5 minutes

Cut up the top piece of the bread for dipping