One of my favorite foods in the whole world is a good lasagna.  A good chunk of lasagna should weigh at least a pound, be cheesy, meaty, and saucy.  It should force you to unbutton your pants to finish.  And the only way to make this even better is to fry it.  Yep, deep fried lasagna has quickly become one of my favorite dishes.
While it may be time consuming, I assure you it is worth every minute.
For this cook you are going to need a few things. (Besides lots and lots of sauce and cheese)
First, you're going to need a deep fryer.  And second you're going to need some plastic wrap.
This is a two day cook, so you might wanna toss together a quick snack while you're waiting.
If you love Deep Fried Lasagna, I think you'll also like:
Fried Ravioli
Pepperoni Pinwheels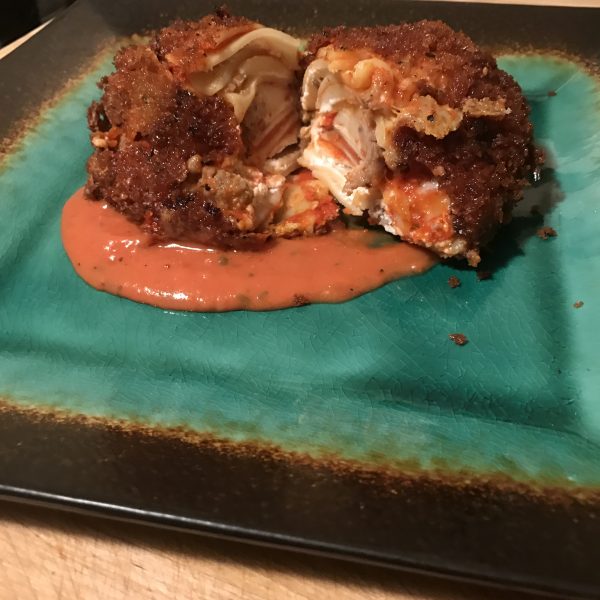 | | |
| --- | --- |
| | |
Start off by cooking the lasagna

Sauce the sides of a deep ceramic dish that you will be cooking in

Cook your sausage in a frying pan, seasoning with a sprinkle of salt, black pepper, garlic powder and oregano

In a bowl, combine the ricotta, salt, pepper, garlic powder and oregano and mix well

Now start assembling your lasagna. You may have to cut the strips in half to fit better. Lay down pasta, sauce, ricotta, mozzarella and sausage

Put some extra sauce on top, and cook in the oven at 350 for 45 minutes

Let it cool almost fully, then slice into 9 sections. Place each into the center of a 12"x12" piece of plastic wrap and seal tightly, kind of forming a brick shape, rounding the edges. Place in freezer for at least 12 hours or until fully frozen

*SECOND DAY*Get three bowls ready - one with the eggs (whisked), second with flour, and third with panko

Unwrap your frozen lasagna ball carefully, being sure not to leave any plastic

Then in egg, back to flour and egg once again

Lastly roll in the panko, being sure to cover the entire block

Place in a preheated deep fryer at 375 degrees, moving every few minutes to cook all sides evenly

When it has turned a dark brown, place in your oven at 300 degrees another 10 minutes to fully cook the inside

Serve with some extra sauce (I like to add vodka sauce) and grated parmesan