As a white dude who loves Spanish food, I still can't cook Spanish food even nearly as well as the bodegas can – but that doesn't stop me from trying!  Well, I could basically live off empanadas, and always wanted to try making them.  So I kind of cheated, using Pillsbury flaky biscuits as the dough.  You don't get that signature empanada crisp and look, but they're damn tasty.  I present my version of empanada and my family's new favorite appetizer, Easy Cheesy Chili Empanadas.
You can stuff these suckers with just about anything, but my favorite is beef.  My filling ended up more like chili (which isn't a bad thing) so I just went with it.  A couple other things I stuffed them with is:
Chopped BBQ chicken, cheddar, and BBQ sauce
Chopped BBQ chicken, cheddar, and sriracha
For this recipe you will need a deep fryer and a cast iron skillet (or a regular pan will work)
I was a little curious, so I did some research on Wiki about empanadas and there is actually a shit load of information there.  Being as these are fried rather than baked, I believe these are closest to the "Tucuman-style" Argentinian empanadas.
Side note:
I know breaking out the deep fryer is kind of a hassle, since you have to waste all that oil and clean it all up, so I usually plan on cooking 2-3 things within a day or two to utilize that oil.
I highly recommend these recipes before you toss that oil:
Deep Fried Mac n Cheese Wrapped in Bacon
Deep Fried Oreos
If you love our Deep Fried Easy Cheesy Chili Empanadas, you're sure to love these other recipes: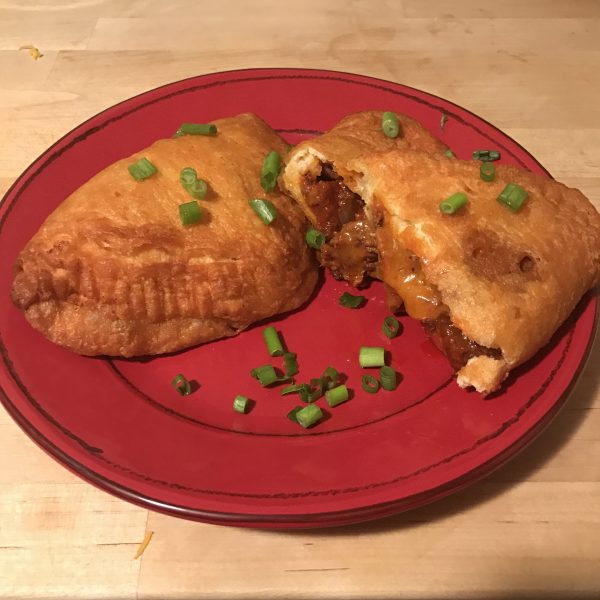 | | |
| --- | --- |
| | |
Start off by heating up your cast iron and browning your meat over medium heat. As it starts to brown add in your minced garlic, chopped onion, tomato paste, salsa, and taco seasoning

Cook until it looks like chili, constantly chopping up your meat as small as possible

Next grab yourself two packs of Pillsbury Grands biscuits. I actually used the Honey Butter biscuits because that's all I could find at the store, and the extra taste was really great, so I'd recommend using them if possible

Flatten out a biscuit into an oval shape

Place a lump of the cooked chili and some shredded cheddar in the center

Fold over the dough, keeping the ingredients away from the edges (they won't let the edges seal properly if they spill out) and flatten the edges with a fork. Flip over and flatten again with the fork

Place into deep fryer at 350 degrees, cooking 2 to 3 minutes each side or until brown. Turn over and cook another 2 to 3 minutes, remove from oil and let dry

Garnish with some scallions and enjoy