You read that right, you don't have to run out and get any fancy ingredients to make this delicious skirt steak marinade!  Pick up a pound or two of skirt steak, raid your fridge, let sit for an hour, grill and you've got a delicious dinner.  Our Easy Skirt Steak Marinade only has 5 ingredients.
So I've been having barbeque withdrawals lately and was craving pretty much everything.  I ran to the store and grabbed ground beef for burgers, jalapenos for poppers, skirt steak and a spiral hot sausage.  I held off on the burgers for another night (plus I forgot buns…) but also wanted tacos.
The outcome?  A half dozen bacon wrapped jalapeno poppers stuffed with cream cheese and cheddar seasoned with Meat Church Holy Cow, about a pound and a half of skirt steak in this easy skirt steak marinade, made into tacos and some sausage.
I like to use my charcoal grill whenever possible, using a Weber charcoal starter and putting the coals off to one side.  Then I'll start cooking anything that takes longer on the top rack away from the coals (in this case the jalapeno poppers) then add the sausage, and lastly toss the steak right above the coals to get that nice char.  But the main thing to ALWAYS remember when bbqing is – always make more than you need cus it's gonna be delicious and everyone around is going to want some.  And if you're lucky enough to get away, you've got leftovers!
Skirt steak tacos
Like This Easy Skirt Steak Marinade?  Check Out These Other Recipes
Nothing goes better than steak and potatoes!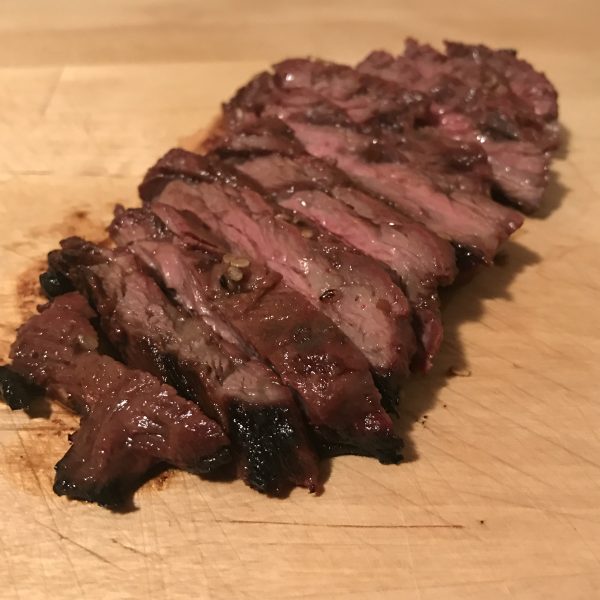 | | |
| --- | --- |
| | |
Dice up garlic cloves and slice onion

Mix all ingredients in a bowl

Trim excess fat and cut steak into smaller sections to get more surface area

Pour marinade over the meat and make sure it's fully covered. Place in fridge for at least 30 minutes to an hour