As a big fan of peppers in almost half of what I make, and with my fiance who absolutely loves roasted red peppers, I don't know why I haven't made these sooner.  Better late than never, cus fresh roasted red peppers are real easy to make and taste even better than the ones you buy at the store!  Next batch I'll be sure to make more peppers.  They'll go great in my stromboli.
For this recipe you're going to need a brown paper bag.  Yep, I know they're hard to find nowadays but I got mine from Harbor Freight so worst case you can probably run there (as they seem to be popping up everywhere lately). Edit – Whole Foods also has brown paper bags.
You will also need a mason jar or two.  I found those at Michael's craft store.  I recommend buying a bunch of these since they're reuseable and great for storing sauces, dry rubs, and anything pickled.
Here are a few of my favorite rubs while we're on the topic of mason jars….
Lemon Garlic Rub – Great on chicken legs, I like to smoke these for about 2 hours then cook over higher heat til nice and crispy on the bbq.
Peach Pineapple Habanero Rub – This recipe is a little more intense and in depth than some of the others.  You start out with fresh fruits and peppers, dehydrating them, grinding them into a powder and adding the other ingredients to make a kick ass dry rub.  Great on pork and chicken.
Very Berry Pork Dry Rub – Another in depth recipe where you go from berry to powder, this is absolutely delicious and worth every minute of effort!  If you are a fan of pork tenderloins then you need to give this dry rub a try.
Like Fresh Roasted Red Peppers?  Check out these other recipes
Stromboli – an Italian classic, everyone makes their stromboli different. To me, the main flavors that stuck out were the pepperoni, the provolone and the roasted red pepper.  Our stromboli recipe is simple and to the point, but one that is loved by many.
Or try tossing some roasted red peppers in our Linguini Alfredo with Sausage and Bacon, this sounds like something I will be doing very, very soon!
I have also experimented with dicing (basically pulverizing) fresh roasted red peppers and mixing with equal part ricotta cheese, a sprinkle of parmesan and oregano to make a pink sauce.  And yes, I like playing with knives and wanted to see how small I could get the peppers.  Turns out after being in the fridge for a while they basically fall apart.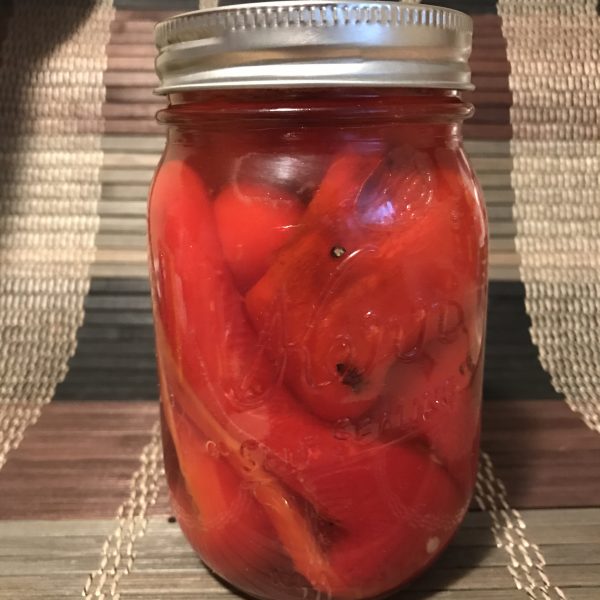 | | |
| --- | --- |
| | |
You can use red bell peppers if you'd like, but I've always preferred the red la rouge peppers. So we're going to start off by simply washing them

Put them directly on the grates of your bbq at around 350 degrees

As they start to blacken, flip them over so they cook evenly

Once you have that nice char on all sides and the peppers are softening up, throw them directly into your paper bag. Seal up tight and leave for about 40 minutes

When you take the peppers out they should still be warm and the skin should be able to peel right off

Chop off the tops, remove the seeds and skin and place peppers in a bowl

Sprinkle the white vinegar over the peppers and rub them to make sure they get an even coat

Now sprinkle on just a little salt and pepper and again rub it in evenly

Take a warm mason jar (you can keep it in warm water or put it in the oven on real low heat) and stuff the peppers in.

Pour any excess juice on top

Pour olive oil onto the peppers, then fill the extra space with warm water

Use something long and skinny to move peppers and remove any air bubbles. Seal and refrigerate at least overnight. These should keep at least a week in the fridge