Don't let the title fool you, this Spicy Chimichurri Sauce will go great on almost anything you grill – beef, chicken, or seafood.  I poured this over a skirt steak that I marinated in soy sauce, Worcestershire sauce, diced garlic, crushed red pepper flakes and a sprinkle of dried ginger powder.
I like to cook my steaks over charcoal on high heat for just a couple minutes on each side but this was one of those it's 30 degrees out, 8 at night and I'm hungry now kind of things so I settled for the gas grill. Still came out delicious and real juicy, just lacked that charcoal flavor and crust I love.
Anyway, on to the spicy chimichurri sauce.  So I'm not a huge steak eater but a few months ago my friend made some and I've been hooked on skirt steak ever since.  I've played around with tons of rubs, marinades and sauces for chicken and pork, but not so much for steaks and beef.  When it comes to beef I usually stick with brisket or burgers.  For brisket I'll do a simple salt and pepper rub maybe with a little garlic powder.  Burgers I go wild with.
Chimichurri sauce is one of those things I've been noticing more and more and it just looked great.  I did a little research and it seems to be from Argentina, always made with fresh parsley, garlic and olive oil, and there are many variations.  It is also usually served atop a grilled ribeye.
What do you need for this recipe?
This is actually a pretty simple one and requires no cooking (besides your steak or meat of choice).  You need to basically purify everything so you can use a food processor, a blender, or do it the old fashioned way like I did with a mortar and pestle.
If you love this Spicy Chimichurri Sauce then I think you'll also love these recipes:
Bacon Wrapped Stuffed Jalapenos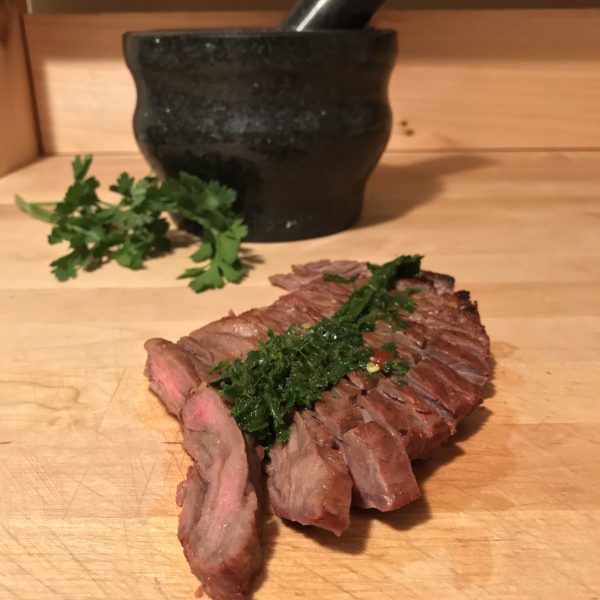 | | |
| --- | --- |
| | |
First and foremost, I've gotta say - make sure you have a great piece of meat ready to go before you start making your chimichurri sauce!

Remove thick stems from the parsley and oregano and chop everything up a little

If using a mortar and pestle, start by crushing your garlic. If using a food processor or blender you can skip this step

Add the parsley, oregano and chiles little by little until fully blended

Add oil, wine, sea salt and black pepper, mix in and you're done!