Mashups can go both ways.  There are some that are great, even better than the original, and then there are some that just tank and would be better off left alone.  Luckily in this case we take two of my favorite foods – Philly Cheese Steaks and Mac n Cheese and mash them into this awesome Philly Mac-n-Cheese Steak.
We've basically turned the cheesesteak inside out, replacing the bun with pasta and overloading it with cheese.  And yes, it's as good as it sounds.
What I've found to be the secrets to a great Philly Cheese Steak are:
-Slice the meat as thin as possible (I grabbed a similar knife off Amazon for under $20 and it works great)
-Season with basic salt, coarse pepper and olive oil and a cast iron skillet
-Dice the meat as small as possible and mix the cheese in with it (Using a cleaver helps, I got this one off Amazon for about $17)
-Cook the onion with the meat and don't hold back, they add good flavor
Traditionally, Philly Cheese Steaks are made using rib-eye or top round, but you can use other cuts of beef as well.  I usually choose a thick cut steak with good marbling and color.  If you toss it in the freezer for 20 or 30 minutes it can be much easier to slice thinner pieces.
History of Cheese Steaks
Want to learn more about the history of Philly Cheesesteaks? Check out VisitPhilly.com for the full story about Pat Olivieri, the man who created this awesome sandwich.  I think he'd enjoy a good ol' Philly Mac-n-Cheese Steak.
They've even got a list of the top ten places to grab a Cheese Steak while in Philly.  My favorite comes in as their #8, but a place I've visited at least a dozen times myself and will go out of the way for, Dalessandro's Steaks.
If You Like Our Philly Mac-n-Cheese Steak Recipe, Check Out These Other Great Recipes:
Easy Skirt Steak Marinade With Stuff You Probably Already Have At Home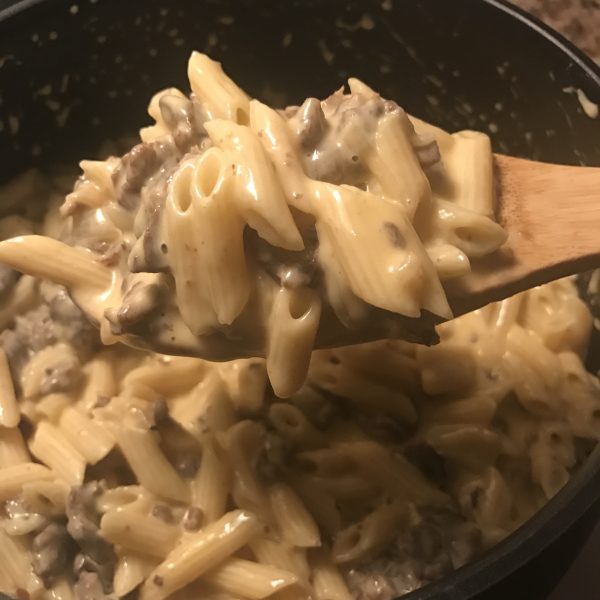 | | |
| --- | --- |
| | |
Slice your steak as thin as possible and remove any large chunks of fat

Toss the steak with one tablespoon of olive oil and a sprinkle of salt and pepper

Heat up a cast iron or regular skillet with another tablespoon of olive oil. Add in the meat and your chopped onion

Once the meat is almost fully browned, remove from the skillet along with the onions. Discard any liquids and dice up into very small pieces

Add back into the skillet with 2 tablespoons of butter

Cook your pasta as per instructions of box, adding in some oil to prevent sticking

In a small pot combine 1 cup heavy cream, 2 tablespoons butter, 2 cups shredded cheddar and 6 slices of American cheese, stirring on low-medium heat until fully blended

Add your meat in with the cheese and cook an additional 5 minutes

Top with your favorite cheesesteak toppings - peppers, hot peppers, mushrooms, diced onion, the sky is the limit!