Getting bored of some foods easily, I'm constantly trying to experiment with new twists of my favorite foods.  Making a great dish isn't only about the main ingredient – whether that's meat, pasta or a vegetable, but it's also about the sauce and way it's served.  While planning on smoking a couple pork butts for pulled pork over the weekend I knew I didn't want the same old pulled pork with bbq sauce on a roll.  Lately I've been making pulled pork sliders on King's Hawaiian rolls since they're sweet, delicious and go great together.  Sometimes I'll use the juices as a sauce, or add to it, or just use a good bbq sauce.  While picking up the pork butts I saw Pineapple Habanero Salsa and knew I should make my own.
Pineapple has always been one of my favorite fruits, and I have been trying to incorporate it into as many recipes as I can.  I've found that pineapple goes great with pork and chicken.  You do have to be careful when using fresh pineapple directly in contact with fresh meat, though.  I found that out the hard way, actually twice.  First while cooking a Pineapple Stuffed Smoked Fatty, and second while making Chicken Kebabs.
What actually happens when the pineapple is in contact with raw meat for too long?  You get a chalky taste and texture as the pineapple starts to basically "cook" the meat.  Pineapple has a protein digesting enzyme called bromelain that pretty much breaks down proteins, which is why you get that weird feeling in your mouth when eating fresh pineapple.  Interested?  Learn more about it here.
Like Our Pineapple Habanero Salsa Recipe?  Check out these other pineapple recipes!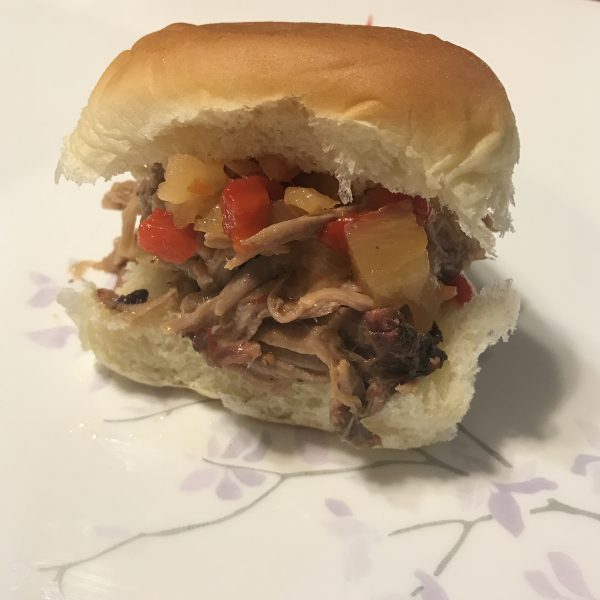 | | |
| --- | --- |
| | |
Start off with one large red pepper and 3 habaneros. Heat up your grill

Place peppers on the grill with indirect heat. (Light right side of grill and place peppers on left). Grill until they start to soften up, then cook directly over heat, turning as they start to darken

Remove from grill when all peppers are soft with char marks

Dice up all peppers, leaving the seeds from the habaneros

Dice up your mango and pineapple

Place in a large ziplock bag and beat with a meat tenderizer until smushed but still chunky

Place your pineapple, mango, apple cider vinegar, water, peppers, sugar and chopped maraschino cherries into a large pot and set on medium heat until it boils

Reduce to a simmer and cook for about one hour, or until everything starts to look like wet salsa

In a separate bowl, mix one tablespoon corn starch with one tablespoon hot water. Combine with the rest of ingredients to thicken up

Put in a jar or use immediately