Sorry if I'm a little late on this one, but for me it was a last minute throw together on the day of the Super Bowl.  It's just one of those days that no matter who you are or what you're doing, you crave wings.  I went out and grabbed a large bag of wings and an even larger package of chicken breasts and decided I would go with boneless wings.
My three flavors of choice would be:
a classic hot – Frank's hot sauce and butter,
garlic parmesan,
and pineapple teriyaki boneless wings.
I knew that I wanted to make some sort of deep fried chicken with a pineapple sauce for over a week now, and was originally planning on doing some chicken strips with a sweet pineapple and brown sugar sauce. Maybe with a little pepper jack cheese on a bun? But then as the whole wing craze hit me, I thought maybe I could make something with the pineapple juice to toss the boneless wings in.
Well I tell you what, this came out even better than I could have hoped for.  It's got a very slight hint of Asian to it with the soy sauce, teriyaki and red pepper flakes. And it has a great overall tangy sweetness that anyone will enjoy.
What you will need for Pineapple Teriyaki Boneless Wings:
One of the secrets to a great crust on your wings is to use Panko, a Japanese breadcrumb.  Since discovering this stuff while working at a wing spot, I have used it to deep fry just about everything including: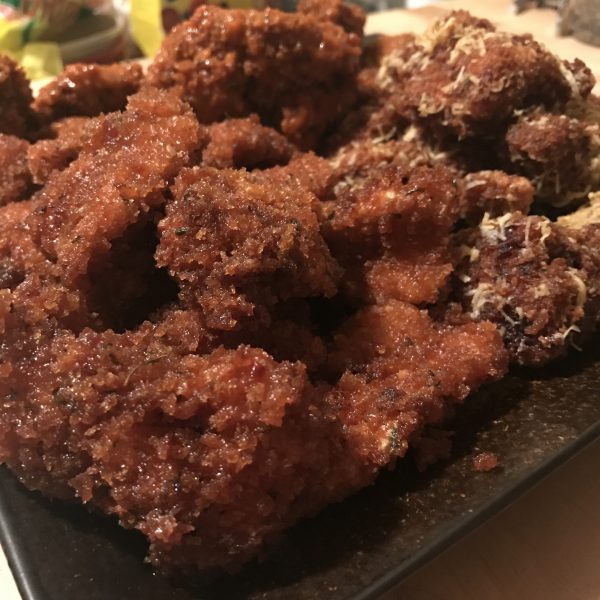 | | |
| --- | --- |
| | |
Start out by cleaning the chicken breasts and removing all fat and veins that you can. Cube up into pieces a little over an inch across, trying to make each piece similar size so they cook evenly

Get three bowls ready - first with the eggs, beaten, second with the flour and third with the panko. Heat up your fryer to 350 degrees

Take each piece of chicken, fully covering it first in flour, then in eggs, lastly in panko. The trick here is to use one hand to put the chicken into the flour and eggs, and the other hand for the panko so it stays dry

Place in the deep fryer until they reach a nice brown color. You can tear one open to check if they are done inside

While you are cooking your chicken, heat up a large saucepan on low-medium heat. Add your pineapple juice and bring to a simmer. After about 10 minutes, add your garlic powder, soy sauce, teriyaki, red pepper, lemon juice, and sugar. Let this cook, stirring occasionally

After about 15 minutes you should notice it start to thicken up just a little. In a separate cup, add 1/2 cup hot water and 1 tsp corn starch. Mix until dissolved and pour in with pineapple juice

Once it thickens a little more, toss over cooked wings in a large bowl. You will want to do a few pieces at a time