I'm squeezing this one in a little late, I know.  But Halloween hasn't passed and technically I think you can get away with pumpkin everything until at least Thanksgiving.  So anyway, I've never made funnel cake before but after doing a quick search it turns out it's easy enough.
Here's a few tips before getting started.
1: Go out and grab yourself one of these squirt bottles, they're less than a dollar at Walmart
2: Make sure you aren't lazy (like me) and melt your butter all the way or it will clog up the bottle
3: Don't refrigerate this, try to keep it warm if possible (I kept the bottle about 6 inches away from the frying pan on the stove top while cooking)
Next time I might experiment with cutting the nozzle a little larger.  This came out good, but a little thin and crunchy.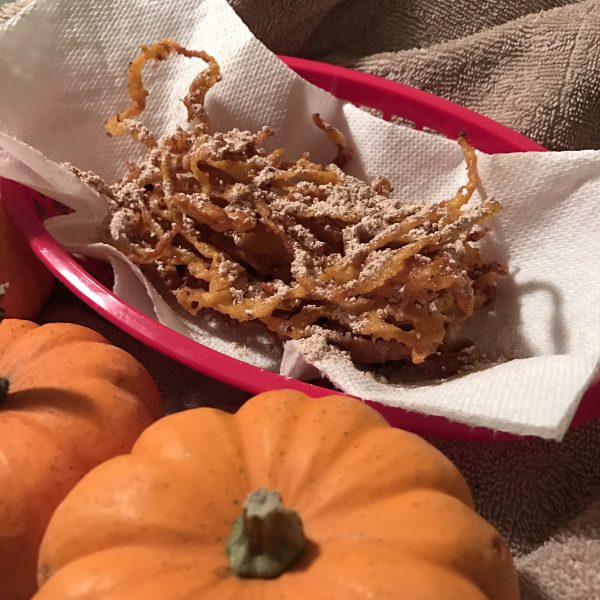 | | |
| --- | --- |
| | |
Start off by melting your butter. Mix all ingredients in a large bowl (except powdered sugar)

Set a large saucepan to medium heat with 1/2" of vegetable oil

Pour ingredients into squirt bottle

When oil has reached temperature, it's time to start cooking. Again, make sure that the batter is at room temperature. If it if too cold it will clump up. Start by squeezing in a circular motion, starting in the center and working your way outward

Let this settle for a couple seconds, then make some criss cross motions on top. Let this cook for a few minutes. Scoop to the side, bunch up and remove when brown. Let sit on a paper towel to remove some oil

Top with a mixture of cinnamon and powdered sugar