I don't know exactly who came up with these originally, but after seeing smoked armadillo eggs all over the internet I decided it was time I made some.  And of course I had to up the recipe a little by wrapping them in bacon and smoking over cherry wood.  These have a kick to them so be warned!
You're gonna want to sprinkle on your favorite pork dry rub.  Lately I've been using McCormick Grill Mates Molasses Bacon a lot and it goes perfectly on these. You can grab it from Amazon here if you don't want to go to the store.
These should be smoked, so that the fat in the pork can render down and you get that nice, smoky flavor.  I do most of my smoking on my 14″ WSM with Royal Oak and cherry chunks.  I've tried smoking with a few types of wood, but for me cherry has become my main wood.
If you're looking at this recipe, I can assume two things.  You like jalapenos, and you like stuff that's wrapped in bacon.  Sound like you?  Check out these recipes:
Bacon Wrapped Stuffed Jalapenos
Bacon Wrapped Chicken Appetizers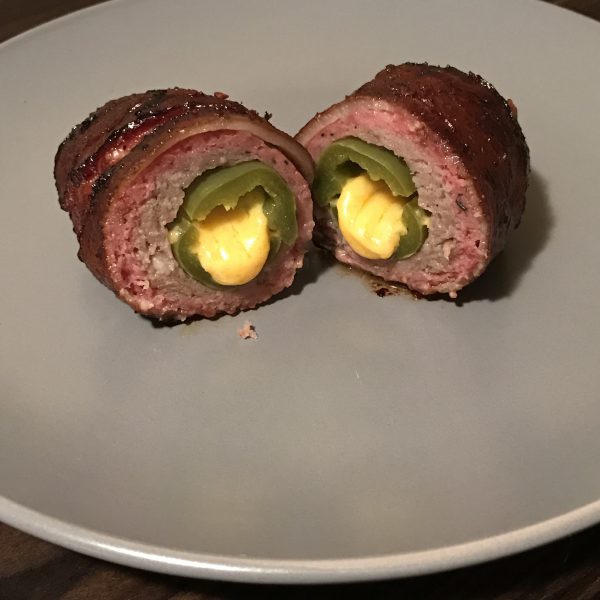 | | |
| --- | --- |
| | |
Gather your ingredients. This one is pretty simple. Fire up your smoker to at least 275. You can also use a bbq or cook in the oven, but I think the smoke gives these a great look and taste. I used a Weber Smokey Mountain with charcoal and cherry wood chunks

Start by cleaning the jalapenos, cutting off the tops and removing the seeds

Cut up some cheddar and stuff it inside

Slice up the sausage into 6 equal pieces

Flatten out the sausage into an oval shape

Place the jalapeno and cheddar in the middle and seal up, rolling in your hand into an egg shape

Wrap up tightly, keeping the ends down

Grab your favorite seasoning and sprinkle some on

Don't overdue it, a little bit goes a long way

Toss those suckers on the smoker, with the ends of the bacon down

Smoke for about 2 1/2 hours or until the bacon is cooked. You will notice that the bacon isn't very crispy

Toss them in the oven at 350 for 15-20 minutes to crisp up the bacon