This recipe is very similar to one I did a few months ago, with a few tweaks.  This time I wanted to make my own dry rub consisting mainly of dried fresh raspberries and blackberries.  The result was a berry pork tenderloin that blew my mind.
I think the pork tenderloin is the perfect cut of meat for this dry rub, and of course you've gotta have a sauce!  This is a real easy (yet time consuming) recipe that I'm sure anyone will love.  When most people think of pork tenderloin, they think of wrapping with bacon, maybe butterflying and stuffing with cheese, spices or maybe even more of a Thanksgiving theme with apples and stuffing.  Well this one goes the opposite direction, and this very berry pork tenderloin is sure to be one of your new favorites!
So what's involved that makes this so time consuming you may ask?
First of all, we start with frozen (or fresh) berries and need to dehydrate them completely.  This is done by using a food dehydrator.  The whole process takes about two days to completely dry the berries out.  You don't want to pull them too soon or they will be hard to grind up.  If you've ever had cereal with dried fruit in it then you'll know the texture you're looking for.
After they are completely dried, we want to turn the berries into a powder.  This can be done by using a food processor or my preferred method or mortar and pestle.  I prefer to do it by hand.  I'm not sure why, I guess it's just one of those old ways of doing something by hand that just feels right.
Then we will be butterflying open the tenderloin, stuffing it with some goodies and tying it up with some cooking twine.  The next important part is the use of the cast iron skillet which will give a great sear and flavor.  And even better you can just toss it right into the oven or bbq to continue the cook.
Similar Recipes To Our Very Berry Pork Tenderloin – Dry Rub & Sauce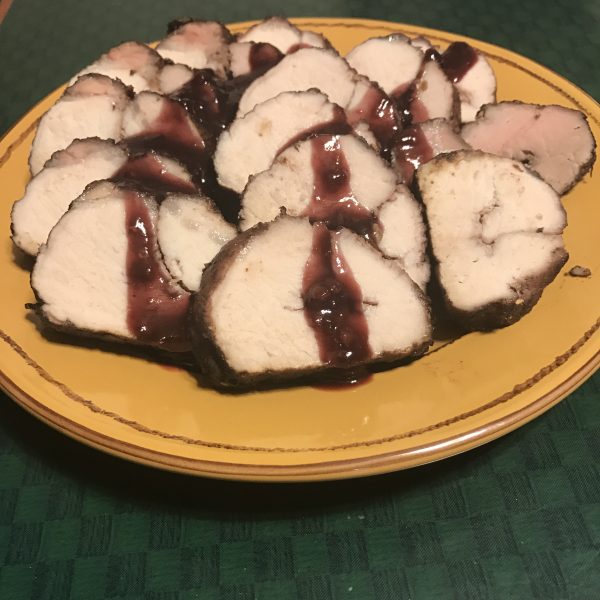 | | |
| --- | --- |
| | |
This recipe takes a lot of time and a couple kitchen tools - a dehydrator, cast iron skillet, and mortar and pestle. Start out with 8 fresh raspberries and 8 fresh blackberries. Clean them and put on the dehydrator. Let them dry out completely. This took me about 2 days

Now you should have completely dry berries

Crush them into a powder, then add in 1/4 tsp of garlic powder, salt, rosemary, and cinnamon, and 1 tsp brown sugar. Mix well

Clean your pork tenderloin, and apply about 75% of the dry rub to the outside. Now filet out the tenderloin

Place 4 tbsp raspberry jam in the middle

Sprinkle a little more dry rub

Heat your oven to 275. On the stove top, heat up your caste iron skillet, then sear the meat on all sides

Add about an inch of sangria and place in the oven

Every 15-20 minutes, pour some of the sangria over the top

Now in a large frying pan, heat up about a cup of sangria and start to let it reduce. Add 2 tbsp raspberry jam and brown sugar and mix in. Add 1 tbsp flour to thicken

As sauce thickens, remove from heat

When the tenderloin reaches 145 degrees internal temperature, drain out the sangria and continue to cook til 160 degrees

Coat with sauce and serve